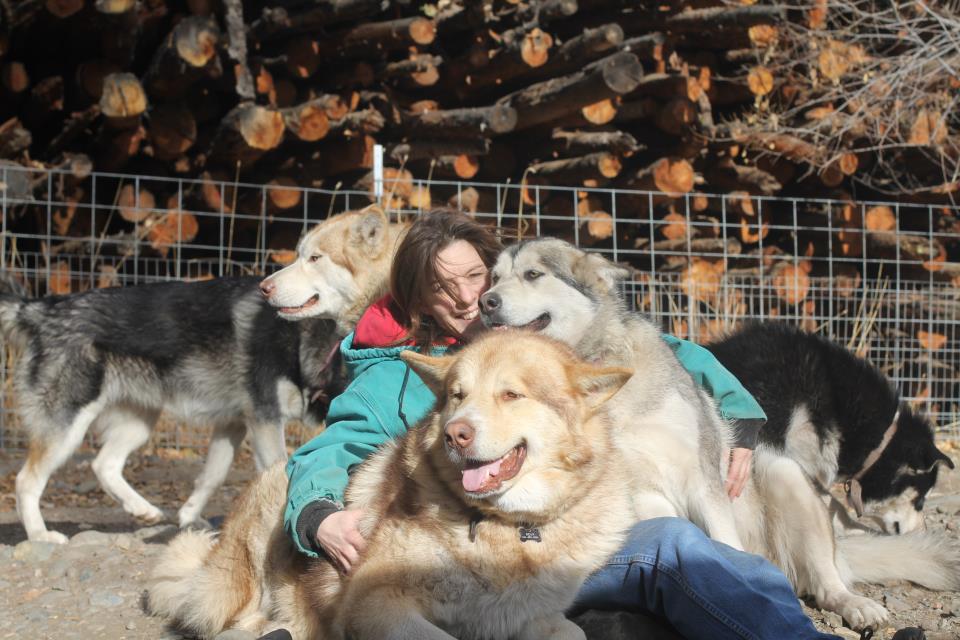 We do offer a 10% Military Discount with Military ID proof. .
Check The PLANNED BREEDING ... AS OF NOW NO PLANNED LITTERS but keep checking back

WE WELCOME YOU WITH OPEN PAWS!!!!!
My dogs and pups range from about 60 pounds to 170 pounds. I don't claim to have the biggest and best although each of my babies is a huge part of my everyday life and world. They impact every moment of my days, but I wouldn't have it any other way. The lines here at Oregon Malamutes include, CharmedOnes, Wakons, Wolfwalker, Lafforest, Sandia, Moonridge, Sheerbaum, Skylands, Kingfishers, Kellys, Shadowmeir,Millers, Towbar,Almeder to name a few. Hoping for new amazing things for my future with Oregon Malamutes. Let the journey continue and the new beginning begin !!!
Malamutes are a huge commitment, so please please do your homework before ever considering bringing a Malamute puppy or adult into your home. There are so so many breeders and puppies out their now a days and many Malamutes are homeless or needing re-homed due to changes in their humans lives. Even through the years of raising them, I am still learning. I am trying to add as much as I can to my website for anyone wanting a Malamute . Pros and Cons of owning them, raising them etc. I have created an Information Page on the website for anyone looking. I don't take breeding lightly, as it is a HUGE commitment. You will notice I only have one to two litters a year. I do not ever want to get big and loose the heart I have for the breed..We want our pups to find homes that will love and cherish them throughout their whole lives. However, I know this too can change PLEASE NOTE: I DO NOT WANT MY PUPS REHOMED WITHOUT WRITTEN PERMISSION FROM ME, OR PUT IN RESCUE OF SHELTER OF ANY KIND. If for any reason you can not keep your little one from me, call me , text me, email me, I will take the little one back or help you rehome him or her!
I started an Information Page on this website to help anyone who wants to learn about the Malamute. However Please do Not let your research end here. One thing I have learned being owned by Malamutes "what works for one person may not work for another."
UPDATE AS OF 12/22/2019 WE HAVE BEEN MADE TO DOWN SIZE.....MY HEART HAS BEEN TORN... UNFORTUNATELY OUR NEIGHBORS HAVE MADE IT IMPOSSIBLE FOR ME TO KEEP MY BABIES EVEN THOUGH WE WERE TOLD BY SEVERAL DIFFERENT PEOPLE IN THE CITY AND COUNTY (UNFORTUNATE I NEVER GOT IT IN WRITING) THAT THE DOGS WERE GOOD AND NO DOG LIMIT! WE WERE MISLEAD WE GOT A NOTICE ON OUR DOOR LAST WEEK SAYING THAT WE HAD 30 DAYS TO PLACE SOME OF OUR BABIES... OREGON MALAMUTES WILL TAKE A SMALL BREAK BUT I WILL HAVE A LITTER FROM TIME TO TIME SO PLEASE BARE WITH ME AS I TRY AND MOVE FORWARD, REGROUP AND HEAL FROM THIS HURT... I HAVE FOUND AMAZING HOMES FOR THE BABIES I HAVE HAD TO REHOME.. THANK YOU TO THE AMAZING PEOPLE WHO REACHED OUT TO HELP.
2011, Many of the kids in this picture are not with me any longer due to changes in life.
2020 planned breeding for Inka/Tank and possibly Naysa and Tank... Waiting list Started.