I

am here for anyone looking to learn or just talk about the wonderful

Malamute breed. I have a strong love for the Malamute breed as my life with them started years ago with a malamute lab cross (Oreo).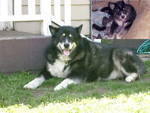 If you wish to talk about my upcoming litters; available puppies; or have a northern breed you wish to place please email me,. please email me at oregonmalamutes@yahoo.com or you can call or text 541-620-2819 to talk more about my babies...
I started my Malamute Journey in 2003, researching pedigrees and looking at the Malamutes that caught my eye. I knew I wanted to raise Malamutes but never did I imagine finding a full registered Malamute would be so hard. I decided if I couldn't find a full registered Malamute I at least wanted a Malamute yes, even if he/she had to be altered. I got my first purebred boy in 2003 Gizmo (pictured above)..... I never gave up looking for full registry, I looked for several years before I found a breeder who opened her heart to me- However I talked to her several times before she finally agreed my home was a perfect fit for one of her Malamutes. I got my first full registered Malamute Chief in 2005 (Bear's sire). I had my first litter in 2008 and so my journey continues..
In 2010 I started building up Oregon Malamutes- researching more, getting lines that I knew i wanted to build what I was looking for in the lines i wanted to create. Life changed for me in 2014 when the man i was with called it off with me and we separated our ways.. I had to move as the place and land was his. Unfortunately, doing so I had to leave some of my babies with him and place others in new homes. I kept the kids that were dear to my heart..
in 2015 an old Family friend and i started talking . I moved to Florida in 2016 to be with him and start being a family with him and his kids.. I was in a point in my life where I started looking at different lines and building Oregon Malamutes once again..I acquired lines that i never worked with before in hopes to build what I thought I wanted Oregon Malamutes to be. Life changed yet again , in 2018 we went through Hurricane Micheal in Florida, we decided to move back to Idaho in 2019. I was so excited to get back closer to the mountains and in cooler weather.. It has however been very trying being back here , I have had to all but tare my heart out of my chest. Due to given false information about the number of dogs that were permitted and not given true information about dog laws in Idaho i had to place all but 4 of my 10 babies in new homes. I have cried many, many tears and prayed many prayers. I miss them all dearly but am thankful I got to find them homes before I was forced to place them in a shelter. I am staying hopeful in keeping my dream of Oregon Malamutes alive. . I have had to adjust my thoughts on how I will continue Oregon Malamutes.
I will not ever get big again, Period! It hurts to much when you have to walk away or place them in new homes. However, I hope to be able to move again somewhere, where I can have 6 Mals, even closer to Mountains where the dog laws aren't so strict. So, Here is to moving forward and keeping Oregon Malamutes alive.
Gizmo my first papered Malamute in 2003